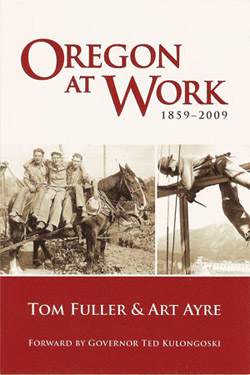 Explore how Oregon pioneers survived in a new land, and how their work ethic came down the generations.
Order Now!
About the Book
The history of labor in Oregon is a history of Oregonians. From
wrangling a thresher to turn out each year's wheat harvest to wrestling
a new computer program to grind out each week's status report,
work occupies, sustains, and to some extent even defines us. The
equipment and the tasks may have changed over the years, but the
can-do attitude of Oregonians remains. The following pages contain
an exploration of how these tasks and equipment have changed—a
history of how Oregonians have worked in the one-hundred and
fifty years Oregon has been a state
Disclosure of Material Connection: Some of the links in the page above are "affiliate links." This means if you click on the link and purchase the item, I will receive an affiliate commission. I am disclosing this in accordance with the Federal Trade Commission's
16 CFR, Part 255
: "Guides Concerning the Use of Endorsements and Testimonials in Advertising."